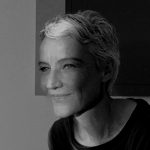 Univ.-Prof. Arch. Dipl.-Ing. Karolin Schmidbaur
Professor
Karolin Schmidbaur is an internationally practicing architect, researcher and educator. She is a Partner at Coop Himmelb(l)au and Professor at the University of Innsbruck, institute of experimental architecture, building construction and technology.
Karolin Schmidbaur holds a degree from the Technical University of Munich where she graduated in 1992. In the same year she joined Coop Himmelb(l)au in Vienna, Austria, and since then has been operating from their offices in Los Angeles, California, which she led from 2003 to 2016, and Guadalajara, México, from 2000 to 2003. Since 2009 Karolin Schmidbaur is Partner at Coop Himmelb(l)au, Vienna, and Head of Research of the office.
International, realized projects under her lead are the Groninger Museum, East Pavilion, in Groningen, Netherlands (1994), one of the first buildings constructed directly from 3-dimensional digital data, the High School for the Visual and Performing Arts in Los Angeles, California (2008), a flagship project on the west coast of the United States for art in public education, and the Paneum near Linz, Austria (2017), the first free- form building in Austria to be constructed from cross laminated timber.
The focus of her research and practice lies in the development and translation of innovative architectural ideas into material, detail and construction. Here she investigates the reciprocity of analog and digital processes and the synthesis of opposites as a strategy for spatial, material and detail development.
Before joining the University of Innsbruck in 2017 she taught at the University of California (1997-98) and the Southern California Institute of Architecture (1998-2000, 2014), both in Los Angeles, as well as the Post Graduate Program of the University of Applied Art in Vienna (2010-2012).
Karolin Schmidbaur is an active member of the German (since 1995) and the Austrian Chamber of Architects (since 2018).
email:
karolin.schmidbaur@uibk.ac.at
phone: +43 512 507 64614
Arch. Dipl.-Ing. Heike Bablick
Senior Lecturer, IT representative
email:
heike.bablick@uibk.ac.at
phone: +43 512 507 64650
Arqu. Dr. Gonzalo Vaíllo, MSc
University Assistant, Post-doc
Gonzalo Vaíllo is a registered architect in Spain, principal founder of the Vienna-based studio MORPHtopia, and a postdoctoral fellow at the Department of Experimental Architecture (Studio Schmidbaur) at the University of Innsbruck. He has also been a visiting professor at Texas A&M University and has taught at the University of Applied Arts in Vienna. He holds a doctorate in architecture from the University of Innsbruck and the Polytechnic University of Madrid (international co-tutelle). His work intertwines practice, design research and theory, focusing on aesthetics, technology and philosophy for a design theory and methodology of the unknown potential of multi-agency objects as design material.
email:
Gonzalo.Vaillo-Martinez@uibk.ac.at
phone: +43 512 507 64617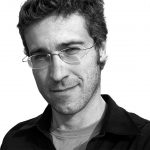 Christian Bührer
Student Tutor



email:
phone:
Professor
Karolin Schmidbaur
Dipl. Ing. Arch.
Senior Lecturer
Heike Bablick
Arch. DI
Administration
Sabine Böck
Best Practice
Volker Flamm
Arch. DI M.Arch.
Univ. Assistant
Markus Malin
Arch. DI
Univ. Assistant
Christoph Opperer
Mag. Arch., PHD candidate
Senior Scientist
Gilbert Sommer
Arch. DI
Univ. Assistant
Gonzalo Vaillo- Martinez
Arch. DI MSc, PHD candidate
Univ. Assistant
Anastasia Zaytseva
MAS ETH, PHD candidate
External Lecturers
Lukas Allner
Mag. Arch.
Hans-Peter Gruber
Arch. DI
Michaela Mair
Arch. DI
Simon Oberhammer
Arch. DI
Silvia Pirkner
DI Arch.
Christoph Schlapak
DI Arch.
Bernhard Sommer
Arch. DI
Martin Zangerl
Arch. DI